"Insight not hindsight" should be the guiding force for decision-making among small and medium enterprises in a post pandemic world – according to a new RSM Australia report that highlights the value of data in a competitive market.
The report challenges the common notion among small and medium enterprises (SMEs) that data analytics is a tool for big business. Data has value for optimizing operations, cutting costs, expanding the customer base, better serving existing clients, and consequently boosting revenues.
Core business objectives aside, each of these outcomes has become a crucial ticket to SME survival in a pandemic-stricken economy – as noted by Srdjan Dragutinovic, a Melbourne-based data analytics director at RSM.
"Some businesses don't realize just how much quality data they have to help grow their business, whilst others have so much data they're overwhelmed by it and don't know where to start." Instead, businesses use hindsight to speculatively inform their next steps, rather than using their data repositories to make concrete forecasts.
What is Data Strategy?
Data strategy refers to the tools, processes, and rules that define how to manage, analyze, and act upon business data. A data strategy helps you to make informed decisions based on your data. It also helps you keep your data safe and compliant.
A data strategy is a highly dynamic process employed to support the acquisition, organization, analysis, and delivery of data in support of business objectives.
A strategy is a plan to achieve a desired goal. A well-crafted strategy answers the question "How?" and describes what needs to be done to achieve the jointly agreed goals and visions.
Every year company management works hard to sharpen their strategy, yet the staff often sees the result only as a compact PowerPoint presentation decorated with catchy images and slogans. The real need for change, and the means to implement that change, often remain a mystery.
Despite this challenge, strategy does have an important role in data-driven business. It ensures a shared understanding of the goals and commitment of top management. It also outlines the first steps and an initial roadmap to move forward, as well as how to monitor and support the execution of the strategy.
"Strategy has an important role in data-driven business."
Why is data strategy so important ?
In any sector, it is increasingly important to make decisions based on up-to-date information that can generate a positive ROI.
Gaining a competitive advantage depends not only on the ability to collect and store data, but also to work it properly to obtain value information. Big Data does not only mean large amounts of data, but above all data of different types analysed in real time to become knowledge.
While these elements have been part of big companies' strategies for a long time, SMEs may find it difficult to integrate them into their daily operations. The lack of sufficient knowledge to develop the business internally, the difficulty in finding the right skills and the associated costs may discourage many small and medium-sized enterprises.
As a result, only a few of these companies have so far adopted a data-based strategy that is effective and capable of seizing new business opportunities: a fundamental step, especially in a context like Italy, where more than 98% of active companies are classified as SMEs.
The benefits that such an approach brings are multiple: it is possible to optimize processes, for example by making it easier to find new business partners thanks to reliable information. Or improve supply and distribution relationships through up-to-date import-export data, or map entire geographical areas to discover the concentration of competitors in the countries best suited to your business.
All these processes need to be supported by accessible and correct information, so that SMEs have all the flexibility they need to be able to act in a timely manner, given lower budgets and often limited timeframes to make decisions.
Matchplat understands the importance of this need and has developed its services to support small and medium-sized enterprises in developing information-based strategies exhaustive and accurate. Through a integrated and accessible offer, we aim to transform data into a truly useful resource for any business, making the B2B market accessible to all businesses.
Thanks to specific analysis services, the aim is to go beyond the mere provision of data, providing companies with an up-to-date information heritage, in order to provide management staff and entrepreneurs with information that can have an impact on their business.
Whether it is to internationalise your business by finding new distributors, find out the trends of export of a commodity or get the contacts of key figures within other organisations, a well-designed data strategy can make a difference, allowing you to get the right information when you need it.
The best way to develop it? Rely on a team with a solid background, where ICT and business knowledge combine with the communication skills needed to respond adequately to the needs of each company. In this way it is possible to overcome any lack of technical skills, without incurring in high costs that most SMEs may not be able to sustain.
Keys takeaways for a successful data strategy
1. Business strategy
Your data strategy should reinforce and advance your overall business strategy, which refers to the processes you use to operate and improve your business.
To that end, establish clear goals and measurable objectives for your data strategy that serve your larger business strategy. For example, your data strategy could include a goal of keeping data storage costs below a certain threshold. To achieve this goal, the strategy might define storage tools or services that meet your cost requirements, as well as best practices that can help users optimize storage costs. And it should establish metrics, such as average cost per gigabyte of storage, to help you track your success in achieving this goal.
Set both long-term and short-term goals. While you might set a short-term goal of performing data quality reviews once every month, for example, a long-term goal might be to achieve continuous data quality, meaning that you identify and address data quality problems continually, rather than relying on periodic checks.
Your business already may have a data strategy; however, as the Stitch data strategy guide explains, many companies' data strategies were written years ago when the toolsets and timelines associated with data management and analysis were different. Periodically review your data strategy to assess whether it aligns with your current business goals.
2. Organizational roles
A data strategy should include attention to organizational roles by documenting who does what with the data, in order to facilitate collaboration and avoid duplication. Not everyone in an organization uses data the same way, and their roles in data collection, management, and analytics will vary.
Three main types of users typically implement and enforce data strategy:
Data engineers, who oversee the data pipeline and are responsible for building an efficient, reliable data architecture
Data scientists, who work with data that the pipeline delivers
Data analysts, who specialize in analyzing and interpreting data
Business managers, who help to manage data operations and review data reports
When coordinating roles, consider everyone in the organization who uses data in any way, even if working with data is not a primary part of their job responsibilities. For example, an account manager who records customer information has a role to play in data collection, and a sales manager may need data analytics to help plan the next marketing campaign. Your data strategy should document the roles of each team member or group.
In addition, when a business maintains multiple data sets, its data strategy should specify who "owns" which data, meaning who is responsible for storing, safeguarding, and interpreting the different data sets.
3. Data architecture
Your data architecture consists of the tools and processes that allow you to work with and analyze data. These elements may include various kinds of on-premises and cloud-based hardware and software.
A first step in defining your data architecture is determining what datasets exist among business units across the company. Data catalogs are useful tools for this purpose. If you don't have a data catalog, review data sources with your team and the users who work with the data.
To analyze your data, you need to store it in a single repository, such as a data warehouse or data lake. You may also want to integrate or transform it to put it in a format that lends itself better to analysis.
You need a data pipeline to ingest raw data from disparate sources and replicate it to a destination for storage and analysis.
Data identification, ingestion, storage, and analysis are all parts of a data architecture. Documenting and implementing your data architecture is essential for a consistent, predictable data strategy. It also makes it easier to scale your data operations as your needs change.
4. Data management
Data management encourages all team members to think of data as a business asset, rather than a byproduct of business operations. It encourages everyone in your organization to follow policies when working with data.
The foundation for effective data management is data governance, which establishes the processes and responsibilities that ensure the quality and security of the data used across an organization. For example, data governance might specify that a manager must archive data in an offline location if it's no longer in daily use. Or a data governance policy may require data encryption to bolster security.
You should update data governance policies as your business needs change. You might store all of your data on-premises today, but if you move your data to the cloud, you may need to update your data governance rules to accommodate cloud-based data management. For example, data that is stored in the cloud might require stricter encryption rules.
What Will Be Your 2021 Data Strategy Roadmap
Next year will be here sooner than we realize. Taking the time as a small business or start-up to plan how you will use data to improve your overall strategy can make a huge difference. Hopefully, this article provides some ideas on where your team can start. 
Whether you need to determine what data you have on hand or what you can do with that data, take the time to write a roadmap.
And if your team needs to help to develop a data strategy or road-map for 2021.
Reach out to us today!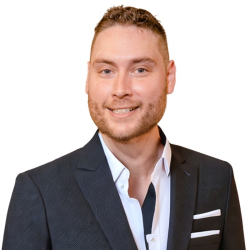 Latest posts by Jonathan Barrett
(see all)