Data as a Service (DaaS) explaination
The big picture idea behind the DaaS model is all about offloading the risks and burdens of Data Management to a third-party Cloud-based provider. Traditionally, companies housed and managed their own data within a self-contained storage system. The problem with this traditional model is that as data becomes more complex it can be increasingly difficult and expensive to maintain.
Simply put, DaaS is a new way of accessing business-critical data within an existing datacenter. Within the DaaS environment information can be delivered to a user regardless of organizational or geographical barriers. Some of the most common business applications powered by DaaS technology includes Customer Resource Management (CRM) and Enterprise Resource Planning (ERP) applications.
DaaS is an architectural construct rather than a single vendor technology.
Data integration: The tools are able to select, prepare, extract, and transform data and transfer data from different sources to one centralized one.
Data Virtuality: Data Virtuality is a data integration and management platform for instant data access, easy data centralization and data governance.
Self-service data preparation: That will help organizations to democratize data. It empowers analytics capabilities to explore complex data at scale and have greater control over the end analytic output.
What Are the DaaS Benefits ?
There are many DaaS benefits for organizations that choose it as their primary delivery mechanism for data-related operations. By having data in a centralized infrastructure with DaaS, organizations gain economies of scale on infrastructure investment. It also helps promote the standardization of skill sets to make administration more efficient. In addition, it provides more opportunities for sharing data across the organization, leading to more collaboration and knowledge sharing.
Let's look at them more in details:
Data quality
Users access data via the data service. Since data service is the single update point, tracking changes to data is easier which can lead to data quality improvements.
Agility
DaaS increases the speed to access the necessary data by exposing the data in a flexible but simple way. Users can quickly take action without the need for a comprehensive understanding of where the data is stored or how it is indexed. Agility is the most important benefit of DaaS and it helps decrease time-to-market for DaaS users.
Financial flexibility
DaaS allows companies to trade-off between investment and operating expenses. Companies can use DaaS to launch services without investing in the systems and personnel to manage their data.
Also, DaaS reduces the capacity on source systems, cutting costs for licensing, MIPS, and hardware. DaaS also helps organizations save maintenance costs.
Augment a workflow
Data-as-a-service models typically do not disrupt a core process, but instead augment a workflow. Customer experience journeys and deep understanding of industry needs help to immediately provide value to the business. 
Few customers ask for an additional dashboard, so data services companies often follow a default design strategy to integrate into the day of the end-user, and a well-defined customer problem.
Trends in DaaS
The global data as a service market has been estimated to attain a value of USD 5.4 billion in 2021 and is projected to grow at a CAGR of 14% during the forecast period from 2021 to 2030, according to Quince Market report.
1. Self-Service Insights
 Many new firms are moving upstream to specialize in data visualization, data-driven insights and decision tools, providing directly to business analysts and decision makers. Companies are also designing end customer facing data-driven insights with the advent of sensors in everything: golf clubs that inform you how to improve your game. 
2. Automated Insights 
As insights move upstream, the connection of everything to everybody means that previously invisible processes can now be tracked and optimized. Everything that can be automated will be automated, replacing analog and human processes. Everything that can be digitized will be digitized, and every aspect of a company's business model will be transformed by the adoption of data-driven organization design. 
3. Benchmarking 
Data as a service is a useful tool when you want to compare your organization's performance against peers. With DaaS, organizations can access global data and create benchmarking reports that may include financial performance, turnover, leadership effectiveness with percentile breakdowns. 
4. Business intelligence 
Companies can offer their data as a service to internal users facilitating business intelligence. DaaS streamlines data standardization, unifying different sources of data, data virtualization and automation of analytics. Data scientists can access data in real-time so that they can perform any necessary transformations and integrations of data dynamically and interpret data for decision making. 
Conclusion
DaaS is a best-in-class solution for the growing enterprise that understands the need to tap into the full value of their data. Enabling business users to capitalize on data and information they can trust to make critical decisions.
If you have a DaaS project and you need help, you can always count on us, JOON is expert in data-driven solutions.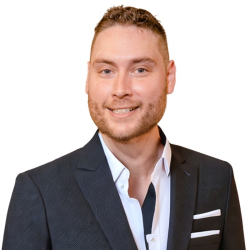 Latest posts by Jonathan Barrett
(see all)