In summer 2021, Gartner outlined top supply chain technologies promising to have a positive and valuable impact on the industry and overall performance while also getting people engaged in it. And one of the current trends is the necessity to combine existing solutions to improve ROI and get higher profits.
Christiane Titze, VP analyst for the Gartner Supply Chain practice noticed: "This year innovative technologies should be combined to provide business with the highly efficient solutions. We are not able anymore to focus on the separate individual tech tools."
He describes the following as an example of hyperautomation: uniting ML (machine learning), AI (artificial intelligence), and RPA (robotic process automation), which is used to automate highly sophisticated operations originally demanding human judgments and activities. Or logistics software solutions, where several technologies are applied, grant more augmentation of human capabilities, smoother decision making, and support the design of an autonomous supply chain.
Here the reasonable question is which supply chain technologies generate more value for the company. For example, Forbes identifies quite an interesting approach to distinguish which technologies are worth considering and implementing, and which of them could be successfully ignored by the market players. In its blog, Forbes evaluates technologies comparing their popularity and performance.
Forbes mentioned 5G as a hyped technology specifying its possibility to join many devices throughout the supply chain for generating a rich data stream. IoT (Internet of Things) is promising, but how to structure a multi-level network with a lot of devices is still a complicated question. AI and ML are promising and widely used in the field of 3pl (third party logistics) services, but whether they provide much value in terms of quick ROI is controversial. For example, McKinsey forecasts AI adoption in supply chain solutions promises around $13tr in GDP by 2030 (which is 16% more than today).
We decided to describe each trendy technology in this blog to provide business owners with detailed information about the future supply chain tech trends for better decisions about what to introduce in their companies.
SUPPLY CHAIN HYPERAUTOMATION FOR THE SAKE OF OPERATIONAL PROCESSES
Hyperautomation as an end-to-end (E2E) automation unites complementary technologies such as deep learning, natural language processing, robotic process automation, AI, and machine vision. In comparison with automation, which represents individual tasks performance, hyperautomation augments the whole business process. Its concept is about joining and integrating all the RPA with the other tools implemented in the supply chain.
Neil Ballinger, the Head of EMEA, EU Automation, identifies hyperautomation as one of the top 2021 strategic technologies because of its potential to contribute to "risks decreasing, revenues growing, and costs optimization." He explains these words in a simple example of feeding spare parts manually even under the whole production automation. Businesses can invest much in digitizing the manufacturing, but if workers still mount the product manually, it's risky, it may violate safety regulations, decrease production speed, and, hence, influence the profit negatively. Once a business owner makes a decision about overall automation, redesigning every manual operation, and developing custom software to run everything automatically, it's an effective way to save money, scale faster, and reduce risks.
Orange Business, the French telecommunications company, estimates 70% of multinational corporations undergo supply chain disruptions under the COVID-19 pandemic. And in their blog, they name this fact "a wake-up call to think about hyperautomation." Because it has great potential to deal with inefficient processes, and lead to greater revenues.
Hyperautomation creates a unified digital platform, where all the RPA tools work together in terms of discovery, data analyses, operations design, measurements, monitoring, and reassessment. It's like the start of a business functioning as a congruent body, where consistent parts perform smoothly. The description may seem too complicated, but hyperautomation is really the next step, able to uplift your supply chain to the next qualitative level of functioning and bring more profits. This supply chain trend doesn't refer to canceling human labor, but to free people of low-value repetitive tasks, and optimizing the processes.
DIGITAL SUPPLY CHAIN TWIN (DSCT) AS AN EFFECTIVE DIGITAL TOOL FOR SMOOTHER BUSINESS RUNNING
Hyperautomation synchronizes all the supply chain parts (planning, sourcing, production, location, transportation, returns) and makes them work smoothly and simultaneously. To understand supply chain processes deeply and precisely digital supply chain twins (DSCT) are used.
Gartner emphasizes DSCT contributes more value to traditional approaches of supply chain analyses. It assists in understanding situations better, enabling more efficient responses to the changing conditions, and establishing less risky preventive maintenance.
A supply chain digital twin is good at:
awaring supply chain development;
identifying bottlenecks;
testing improvements;
assessing the risks;
logistics planning;
inventory management; and
forecasting operations efficiency.
If we speak about a digital twin of the supply chain, it's worth distinguishing it from a simulation model. The last one is just a scheme with not enough details to analyse all the supply chain interactions. DSCT has become a trend to focus on, namely because it grants deep insight into SC functioning. It uses live data feeds (incoming dispatching schedules, inventory fulfillment, fleet locations, etc.) to provide you with alarms about abnormal situations, which is helpful in minimizing risks and financial losses.
DSCT Example
River Logic developed a graph database enabled by AI to aid the digital twin design of the value chain. It differs from the traditional models because it is not made step-by-step by adding separate supply chain stages (bill of material, routing, etc.), but provides a full 3D drag-and-drop model. Even financials of both the company and the clients are included, and this empowers advanced scenario optimizations and predictions. The live data feed is captured, processed, and AI delivers ready-made efficient decisions. This really simplifies human activity, and smoothens the operations.
So, DSCT, as a part of hyperautomatization, makes the supply chain more robust due to the early identification of the issues critical for the network's effective functioning. And at the same time, it's a visualized model of the whole business, which is convenient to be utilized for business forecasting needs. Forbes identifies DSCT and hyperautomation technology trends as "promising" ones granting stable ROI and tangible benefits. Both of them are based on RPA (robotic process automation), which is also trendy and widely utilized to automate volume, repetitive tasks.
RPA TECHNOLOGY FOR EFFICIENT SUPPLY CHAIN
According to the Gartner report "global RPA revenue in 2021 is expected to be 19.5% more than in 2020." Forrester, a consulting company and Innovecs partner, calculates that one in four employees working with the databases gets information from software bots, which is a vivid example of RPA implementation in 2021. And with the course of the worldwide pandemic and demand for distant working, RPA is getting more and more widespread. This software technology helps to build and manage software robots emulating human activities and interacting with digital business systems.
If we speak about RPA as a current and future mainstream trend, it's worth mentioning that a variety of modifications exist:
RPA as a service (RPAaaS): it is very much like SaaS (software as a service) because of its low development and deployment costs. AgreeYa, a provider of Microsoft-based solutions, specifies in its blog that RPA as a service popularity is "driven by the need for utilizing the most impactful and the most reusable components";
IPA (intelligent process automation): it is a blend of AI capabilities, the trial-and-error principles of machine learning, and rules-based automation. It's another way of operating, when, for example, big data should be delivered to the customers. It's not convenient to do manually, and IPA provides a smart way of insurance claiming or customers' requests processing.
Each vector in robotic process automation has much potential for business growth because RPA performs a reasonable blend of digital and paperwork, accelerates digital transformation, eliminates human errors, and boosts productivity. And to estimate how any RPA kind aligns with your specific business needs you may order a detailed consultation from Innovecs' experts.
PegaSystems interviewed 500 decision-makers in global companies asking them whether RPA is crucial for the digital transformation of the future. And 63% of the respondents note RPA "as a major component" of the company's future digital development and change.
NEXT GENERATION CONTROL TOWERS
Another high-value, but not so widely adopted supply chain technology trend empowering digital transformation is next-generation control towers. IBM describes them as "a way to break free from visibility challenges.'. The modern supply chain control tower is a highly personalized dashboard providing a clear vision of the data, alerts, and supply chain alarms for better control and interaction with the supply chain participants.
Once you implement a custom supply chain control tower, you'll get the possibility to predict disruptions better, react to unplanned events, and improve resiliency. Deloitte researched the demand for efficient control towers on the market: only 6% of the respondents were sure they had real visibility they need for smooth productive work.
The supply chain control tower of the future needs three critical input components: data, analyses, and user-friendly visualization. They sound like plain issues, but in reality, the holistic view of the supply chain is possible only if critical components are distinguished successfully among the mass input data. Only then is the control tower system able to provide critical facts and information to outline important cases, where human decisions are demanded. That is a complementary process of step-by-step data processing.
AUTONOMOUS TRUCKING
Data is a baseline for another futuristic supply chain trend of autonomous trucking. In March 2020, Stefan Seltz-Axmacher, CEO of "Starsky Robotics," a provider of autonomous trucking software and remote monitoring techniques, announced the end of the company and shared his insights into autonomous trucking with Forbes. He says the main reason to stop his business in the future is not the trend isn't demanded, but it's hard "to balance between safety issues and much investments with low margins needed." Stefan insists autonomous trucking is really a trendy issue because" unmanned vehicles will not start "fighting conflict in the warehouse or decide to stop in Las Vegas for several days in the strip club." But nowadays, businesses are looking for not-so-vast investments with quicker ROI rather than wait to implement the technology as "early adopters."
TuSimple believes we'll see autonomous trucks on the roads by 2024, but now it's just a technology of danger-avoidance system able to depict the situation 360 degrees around the vehicle and 1000 meters forward to prevent danger. To recap, human-free trucking is a concept comprising AI and ML data processing and analyses for more safety and business efficiency.
AI AND ML PLATFORMS OFFERING ROBUST ROI
Digital platforms backed by AI and ML technology enable critical supply chain data sorting, visualizing it, and preparing for the final decision-making. The main advantage of these technologies is that they have much potential to address supply chain vulnerabilities such as:
cybersecurity risks (IdAgent calculated their amount increased by 80% in 2020);
financial resiliency (precise and accurate forecasting enabled by AI is a good tool for carriers to be ready for extra costs or to prevent them);
product complexity (artificial intelligence empowers the solutions able to answer whether all the product components are available, or how flexible the product design is, and if there's a need to replace any spare part);
organizational maturity (IdAgent counted 41% of the US companies suffer from data breaches because of overall sensitive information access for the employees). AI technology can grant perfect tools for data security and access level sharing;
transportation and logistics (fleet management and tracking solutions); and
planning and supplier network: AI-enabled platform contributes greatly to arranging efficient vendors' management.
SupplyChain24/7.com compares the business ecosystem with the human body, and AI is like a physical and chemical driver of all the processes. It speeds up the information flow, reduces inefficiencies, and "facilitates the whole business body functioning."
McKinsey Global Institute proves the above-mentioned huge AI/ML potential but still, they reasonably account for the challenge of technology implementation. It may widen the gaps between people and countries because late AI adopters will lag in dealing with the early ones. But that is a dialectic of any technological changes, and still, AI is expected to deliver additional global economic activity of around $13 trillion by 2030. So, to be in front of tech changes, it's worth thinking of an AI-empowered platform for your business right now.
THINGS TO REMEMBER WHILE CHOOSING AMONG TRENDY SUPPLY CHAIN TECHNOLOGIES TO FOCUS ON
The pool of technologies popular in the second part of 2021 and having potential for future development is transforming traditional supply chains into autonomously functioning digital supply networks. And the main objective of the business willing to stay ahead is to have a clear vision of which technologies are promising and able to generate higher ROI.
GlobalTradeMag notices that throughout the whole brand new supply chain technologies, the concept of "elastic logistics" is essential. This agile and flexible model of conducting business can mix the technologies addressing the objective of upscaling or downscaling considering market demands.
It's not an easy balance between going green and sustainable and generating revenues and implementing new technologies. GlobalTranz researched essential issues for implementing technologies wisely, and named this paper loudly "Supply Chain Trends To Compete With Amazon." Here are the tips of their view that can be helpful for your technological decisions:
"Robots as a service concept" is powerful. It has already been tested by Amazon's Kiva Robots, and Starship meal deliveries.
One should be ready since procurement practices are changing due to AI-enabled forecasts (Johnson & Johnson has even established a sustainable procurement program, which is an example of how to combine efficient tech solutions and social value).
Creating e-commerce platforms is a trend, especially for the retailers' supply chain (Walmart has introduced an option of "getting the product without getting out of the car").
Contingency planning is an option for any supply chain technology deployed: the more precise forecasting of the occasional events, the more robust the supply chain is.
Technologies described in this blog are helpful in customizing your supply chain solutions: from tracking processes to warehouse management; from sustainable procurements to disintermediate shipping. And the thing to remember while outsourcing custom software development is to see the "big picture" of your business before setting objectives and choosing certain high-tech tools.
CONCLUSION: THE BIG PICTURE
According to the Statista 2020 Global Survey, the primary driver of changes in the supply chain sector is the cost factor: 46% of the professionals note "labor availability is not so motivating factor for huge shifts in the supply chain." Technology, which assists in the cost-effective business running, is pushing companies to change.
Business owners have a wide choice of technologies nowadays. Some of them are promising, but not widely adopted like autonomous trucking and require much testing and investment. Some of them are really hyped and promising like the development of digital supply chain twins for a better understanding of supply chain functioning and dynamics. And there are also those trends that do not appear recently but are developing and updating like AI/ML platforms.
Hyperautomation can be a strategic approach to go digital. DSCT is like a tactical way to reach hyperautomation. You design a working business model with proactive and reactive components available to vary and see what's happening for better predictions of supply chain disruptions. Brand new supply chain control towers enable a clear vision of how your supply chain works. And it contributes to hyperautomation as well. So, you see all the popular supply chain technologies are interconnected and aimed at making your business more profitable, secure, and sustainable.
Each technology addresses various supply chain vulnerabilities such as product complexity, logistics sustainable planning, or financial issues throughout the supply chain network. And only a clear awareness of business bottlenecks or objectives to be reached is helpful on the way to implementing high-tech improvements. A competitive and fluctuating market gives not so much time to think and test, but it grants benefits for those who are ready to accept digital trendy changes.
Source: innovecs.com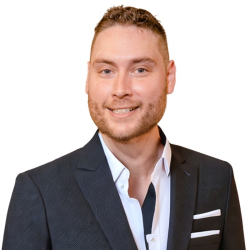 Latest posts by Jonathan Barrett
(see all)