A bit of a strange quote to start an introduction to Windows on. What Steve Wozniak was trying to do here, is making the case of the desktop computer. This was the technology aim, during the rise of  both Microsoft and Apple, to get these powerful small machines in the hands of everyone. It's rather poetic how Windows computers now no longer can be thrown out of a window, enter Azure.
Who's on Azure?
Globally, 90% of Fortune 500 companies are using Microsoft Azure to drive their business. Using deeply-integrated Azure cloud services, enterprises can rapidly build, deploy, and manage simple to complex applications with ease. Azure supports a wide range of programming languages, frameworks, operating systems, databases, and devices, allowing enterprises to leverage tools and technologies they trust.
Defense Contract Shows the Way
"Microsoft's new CEO has set a game-changing approach for the company and opened the business to be much more agile at a corporate level. This approach has bred successful results for Microsoft Azure, including a partnership with Salesforce. More importantly, the U.S. The Department of Defence awarded Microsoft a ten-year, $10 billion contract to transform the military's use of the cloud; many in the industry had believed that rival Amazon had been a shoo-in for the project. These deals only bode well for Microsoft's Azure increasing market share of the public cloud space." – Justin Day , Ceo of Cloud Gateway (December 17, 2019)
Why Azure?
Simply put, Azure enjoys an incumbent role with enterprises as a cloud service provider, but pricing will blend multiple monetization models and bundles. The real battle between AWS, GCP and Microsoft will revolve around enterprises that go multi-cloud but want one preferred cloud service vendor. Will Microsoft be the preferred vendor? In that environment, Microsoft is a known commodity that can plug into Salesforce, which picked Azure for its Marketing Cloud, as well as other incumbents such as SAP, Oracle, and Adobe. 
In addition, Microsoft can pair its cloud offerings into its Microsoft 365 effort, which is a cloud and enterprise software buffet packaged for various industries but may have hidden costs if not negotiated properly. At Build 2019, Microsoft rolled out a bevy of updates for developers, but the overarching theme was that Azure and cloud services are the center of the company's platform approach. Microsoft has also honed its ground game for hybrid deployments as it has deep partnerships with server vendors to create integrated stacks to target hybrid cloud and private cloud. Azure Arc, Azure Stack, and Azure Stack Edge are all examples of these hybrid efforts.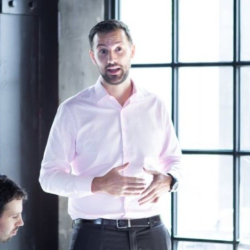 Latest posts by Marco Sollie
(see all)