Earlier this week, the Joon Team attended a discussion organized by the Financial Times 'New Challenges for the Digital-First Business.'. We got confirmation on a couple of key points of our Digital Transformation philosophy from industry leaders. The panel members were Rohit Kapoor (CEO at EXL), Clark Murphy (CEO at Russel Reynolds), and David McMillan (CEO at Esure).
What did we learn from the panel? 
Digital transformation
The current global crisis has accelerated the digital transformation process in every business across the world.  David McMillan commenced with "Adapt or die. Even large companies have to act like startups, reinventing their business along with their customers" David then recounted how, when his staff was forced to move from home during the first lockdown, they suddenly had to find 2000 laptops at the same time while most other companies were going through the same process. That was just the beginning, since the whole workforce now had to be coordinated, supported and inspired remotely. 
Aside from the transformation mandate, we also discussed how to go about this effectively.  "Many companies aim to transform to digital across the board, and implementing new technologies wherever possible, this however is not effective. A much more optimal strategy is to optimize the use of technologies in place and remove friction points. From there, slice it up, do it end to end in small pieces." Rohit Kapoor explains. 
Maintaining and Growing your Customer Base
Customer demand for digital has grown tremendously, we want to order whatever we need, to wherever we need it, whenever we need it. Rohit Kapoor explains "Customers will make decisions in 60 seconds or less. At the same time, it is crucial to build an emotional connection with your customer and develop that relationship. This calls for a series of high experience transactions that are flexible and personalized. A possible source of frustration is when companies have consumer data but do not use this to personalize the experience. Your new innovations should resonate with the customer. Who actually enjoys having to enter data into a form over and over again? Or being introduced to completely irrelevant products? We need to leverage what we learn about our customers and approach them in that way." 
How Will this Affect our Employees?
All jobs will change as many aspects of these jobs will be automated. But this also feeds employee empowerment as they can oversee more tasks and increase their overall productivity. David McMillan warns: "Effective leaders help people to thrive, help people to deal with change."
Clarke Murphy has been using machine learning powered algorithms at Russel Reynolds before anyone in the industry was really comfortable with it. Clarke assures "It takes human judgement to design and maintain effective algorithms. More than ever is empathy crucial to, in combination with big data, provide the best possible results. Set up the robot (head) and the human (heart)."  
Starting the process of digital transformation can be a costly and daunting task. Many have started their action plan, but have not seen the results they were hoping for. Talking to other business leaders to discuss how they have overcome their challenges can provide perspective. Keep in mind that, especially when larger parts of our processes go digital, personalization and empathy are key to effective transformations.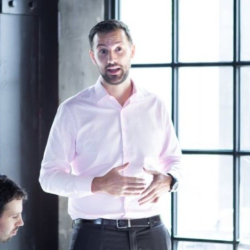 Latest posts by Marco Sollie
(see all)