Brian Solis, a leading thinker, defines digital transformation as: "The realignment of or investment in new technology, business models, and processes to drive value for customers and employees and more effectively compete in an ever-changing digital economy"
If your employees are empowered, they feel happy, and happiness at work leads to great creativity and healthier customer service, resulting in considerable business benefits. Digital Transformation enables employees to have the tools to get their job done from anywhere, anytime and at their comfort. A study of 500 digital transformation strategists and executives, conducted by the Altimeter Group, revealed that one of the highest-ranking benefits of digital transformation for organizations included a positive impact on employee moral.
"37% of respondents stating that, second to increased market share, employee engagement was the next big return"
The future workforce
According to the statistics published in Capgemini's Connected Employees publication; 75% of the workforce will be Millennials or Gen-z by 2025. 42% of them are likely to quit a job if the employer has substandard technology. It also says 83% Of Chief HR offices (CHROs) say the employee experience has become critical to their organizations success. 66% of them says a superior employee experience drives quantifiable productivity gains across the business.
Empowering employees will require companies to have everything now and at the disposal of employees at any time, meaning access to apps and data wherever they are, interconnect with surroundings at the place of work, interconnect with colleagues, clients and support anytime. Cognitive solutions can transform the employee experience.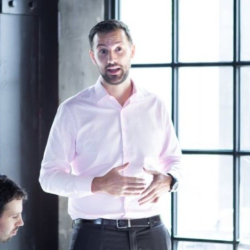 Latest posts by Marco Sollie
(see all)