The trend of migrating business to the cloud has been vastly accelerated through Covid-19, Canalys reports the worldwide cloud market growing 33% in 2020. With lockdowns extended in various regions across the globe, the cloud will remain a vital lifeline for many businesses and education alike. A less obvious beneficiary of this process is Mother Earth. Cloud Computing actually reduces energy consumption, waste and carbon emission.
Reduced energy use by increased efficiency
In many small business and corporate environments, server utilization rates hover around 5 or 10%. This means that you need more servers to get the same amount of work done. With the cloud, utilization rates are typically 60-70% — shared data centers can employ fewer machines to get an equivalent capacity.
The major cloud providers run virtual machines on their servers to limit downtime, install custom cooling systems, automate wherever possible, and so on. An algorithm trained on historical weather data, for example, knows how to tweak a data center's cooling system in response to the environment, says Joe Kava, Google's vice president of data centers. This ruthless pursuit of efficiency has helped the data center industry keep its energy needs fairly constant over the past decade.
Microsoft Corporation partnered with WSP USA to conduct a study to highlight the environmental benefits of its cloud services. In a report titled 'The Carbon Benefits of Cloud Computing: A Study on the Microsoft Cloud,' WPS found that the Microsoft cloud is up to 93 percent more energy-efficient and can result in 98 percent lower carbon emissions than traditional enterprise data centers
Lawrence Berkeley National Laboratory partnered up with Northwestern University to conduct study, funded by Google, in which they found that moving common software applications used by 86 million U.S. workers to the cloud would amount to cutting the energy use by 87% which can power Los Angeles for a year, the report said. Data center energy consumption is expected to drop by 31 percent in a decade due to the continued adoption of cloud computing.
Commitment to renewable Energy
Most cloud providers and large internet companies are coupling transitions of their data centers to clean energy with strong advocacy for access to renewable options. "Thanks to the leadership and advocacy of companies like Apple, Google, Facebook, and Switch, we are seeing the tech industry make major strides toward powering the internet with clean energy," said Greenpeace Senior IT Analyst Gary Cook. Both Google and Apple announced they had achieved 100% renewable energy for their global operations in 2017 and 2018 respectively. Microsoft has said to have completed this by 2014.
In its commitments to renewable energy Google says it is the "largest corporate buyer of renewable energy in the world," and in September last year it increased its renewable energy portfolio by 40 percent through power purchase agreements with utilities around the world. These types of deals are designed to fund the construction of new renewable energy projects in exchange for access to their energy once they're online. The idea, which Google helped pioneer, is to expand renewable resources on the grid.
Microsoft has implemented some unique company policies, including internal carbon taxes that push departments, including the Azure team, to minimize their climate impact. They recently closed a deal for a 74-megawatt solar project and entered a five year hydro power purchase agreement bringing the total renewable energy portfolio to around 1.9 gigawatts, says Brian Janous, general manager of energy and sustainability. In 2018, the company also began experimenting with data centers on the ocean floor, which could lower or eliminate cooling and other energy costs.
Amazon report limited environmental data total carbon footprint: 44.4 million tCO2e. Since this includes all of Amazon's operations and is not broken out for the Amazon Web Services cloud business, this is not a useful figure. Also, emerging East Asian internet companies are well behind the U.S. market in renewable commitments due in part to fewer clean energy options from monopoly utilities.
Are you looking for more green in your IT solutions? Contact the Joon Team to learn about the economic, environmental, and operational impacts a cloud migration can deliver.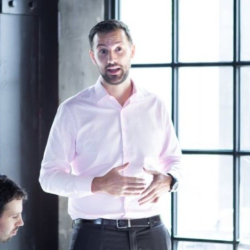 Latest posts by Marco Sollie
(see all)